About



.About the site
.Site Reviews
.Participate
.Author Events
.Heroines Books
.Picture Book

Meet the Author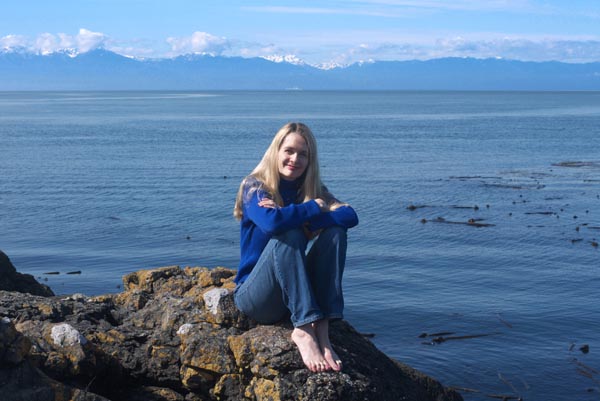 Merna Forster is an author, historian, naturalist and photographer. She has a particular interest in women's history, natural and cultural heritage, travel and the outdoors.
Merna grew up in the Alberta foothills, where she loved to ride horses on an uncle's farm with an impressive view of the Rocky Mountains. She earned a B.A. at the University of Alberta after studying both arts and sciences, and also took drama courses at the University of Victoria in B.C. A recipient of the Richard J. Schmeelk Canada Fellowship, Merna received an M.A. in history from Laval University in Quebec City.
Merna worked with national parks and national historic sites across Canada in the areas of public education programs, outreach and visitor services. One of her favourite postings was in Haines Junction, Yukon - where she was the Chief of Visitor Services for Kluane National Park. Merna also enjoyed her many years as a Parks Canada naturalist in Jasper National Park, where she was a longtime board member and eventually president of the Jasper Yellowhead Historical Society.
Merna has worked in the field of Canadian Studies. While based in Ottawa she received the 125th Anniversary of the Confederation of Canada Commemorative Medal and served as vice-president of the Ottawa Independent Writers. In 2005 Merna was awarded The Lieutenant Governor's Celebration of the Arts Pin by Dr. Lynda Haverstock, Lieutenant Governor, Province of Saskatchewan. Merna Forster was one of the women featured in Herstory 2011: The Canadian Women's Calendar. She received a University of Alberta Alumni Honour Award in September 2012, to honour her accomplishments as a Canadian historian and her advocacy in raising awareness of Canada's unsung heroines.
She currently works at the University of Victoria as Executive Director of the Great Unsolved Mysteries in Canadian History Project, which received the 2008 Pierre Berton Award. Merna was a member of the Emily Carr Statue Committe (Parks & Recreation Foundation of Victoria), which raised the money for the Emily Carr statue.
AUTHOR NEWS:
Merna Forster was interviewed on the CTV National News for a story on her bank notes petition: Margaret Atwood backs petition calling for women on bank notes


Merna was quoted in a newpaper article in The Globe and Mail on October 16, 2013: Why Margaret Atwood's latest cause is the $50 bill


On July 26, 2013, Merna Forster started a petition to Stepehn Poloz, Bank of Canada: Add women from Canadian history to Canadian bank notes


Merna Forster was quoted in a newspaper article by journalist Dean Beeby on July 7, 2013: Carney to include women on U.K. bank notes after women purged from Canada's.


An article about Merna Forster and her books appeared in the July 2013 issue of Seaside Magazine. You can read it online, page 59.


To celebrate Women's History Month in Canada, Merna Forster shared some stories of amazing Canadian women with Jody Vance on Breakfast TV in Vancouver on October 17, 2012.




Jody Vance (left) with Merna Forster




Merna's news article "Women, Minorities Shortchanged on New Banknotes" appeared in the fall 2012 issue of Herizons magazine .


To encourage celebration of Women's History Month in Canada, the Girl Guides of Canada invited Merna Forster to be a guest blogger. Check out her post (October 5, 2012).


Merna's article Secret Agent Chastelain: A Page in Canadian History was published in the Spring/Summer 2012 issue of the Homeschool Guide magazine.


Merna Forster was included as one of Victoria's "Local Women Making a Difference" in a special newspaper insert published by Black Press. The article "History's Heroines: UVic historian tracks Canada's heroines" profiled her work as well as some of the historical figures she's written about.




Jody Vance (left) with Merna Forster

To celebrate International Women's Day 2012, Merna was the guest of Jody Vance on Breakfast TV - Vancouver.


Merna's books were mentioned in an article (View from Vancouver) in the January 2012 issue of Dance International magazine.


The Chronicle Herald (Halifax) ran a full-page story on 100 More Canadian Heroines: Notable women who time forgot


Merna's work was highlighted in an article in the Spring 2012 issue of Boulevard Magazine: Victoria Author Merna Forster brings forgotten Canadian heroines into the light (be patient, takes a while to load)


Merna Forster's new publication 100 More Canadian Heroines was among the list of favourite books from 2011 identified by Canadian political figures. The list appeared in a newspaper article that appeared in many major newspapers, including The Montreal Gazette and The Calgary Herald: What they're reading in Ottawa. "An inspirational read" said MP Michelle Rempel.


On December 5, 2011, 100 More Canadian Heroines was selected as Book of the Week by Elise Cotter of the Historica-Dominion Institute. This is "the largest, independent organization dedicated to Canadian history, identity and citizenship."
Book of the Week.


Merna's op-ed piece on the new banknotes appeared in the Times Colonist and was picked up by many other newspapers across the country: Banknotes hard to forge, but women missing.


Merna's book 100 More Canadian Heroines is recommended in History Matters, the journal of the National Council for History Education in the United States.


One of Merna's photographs (of sculptor Barbara Paterson) is included in Herstory 2012: The Canadian Women's Calendar. A number of the profiles in this interesting calendar were inspired by the heroines.ca website.


Merna's book 100 More Canadian Heroines was launched in October 2011 in celebrations of Women's History Month at Emily Carr National Historic Site in Victoria, and at 24 Sussex Drive in Ottawa.
More on launch event in Victoria.
More on launch event in Ottawa.

Books
Merna's book 100 Canadian Heroines: Famous and Forgotten Faces was published by The Dundurn Group of Toronto. Ask for the book at a store near you! The publication is also available from amazon.ca, amazon.com and chapters.indigo.ca. Read more about 100 Canadian Heroines, and check out the book reviews.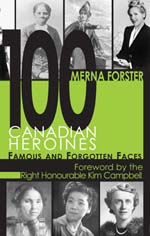 The second volume in the series is 100 More Canadian Heroines: Famous and Forgotten Faces, published by The Dundurn Group in September 2011. Be sure to check for it at your local bookstore, or order from amazon.ca
, amazon.com
or chapters.indigo.ca.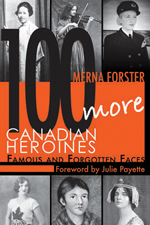 Merna's picture book Children of the Prairie was published by Baico Publishing.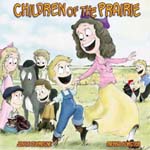 Other Publications

To purchase Maligne, Valley of the Wicked River and Jasper...A Walk in the Past contact the Friends of Jasper National Park Bookstore.