Historic Sites
National Program: Historic Sites and Monuments Board of Canada
Unfortunately, the importance of women in Canadian history hasnít been adequately recognized in our national commemorative system. But the Historic Sites and Monuments Board of Canada is working to increase commemoration of women, as well as Aboriginal Peoples and cultural communities. And you can help!
Canada has a federal government program for recognizing nationally significant people, places and events and other aspects of Canadian history. The Minister of Canadian Heritage makes the designations on the advice of the Historic Sites and Monuments Board of Canada. The Board was created back in 1919. Since that time the commemorations include 897 national historic sites, 585 persons, and 354 events and other aspects of Canadian history (as of July 2003).
Together they are the system of National Historic Sites of Canada. In most cases a plaque marks the commemoration.Parks Canada administers 149 of the national historic sites.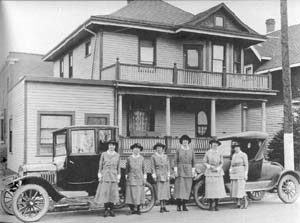 Victorian Order of Nurses(National Archives Canada/C-054523)
Existing Commemorations of Womenís History
The designations of national historic significance which focus on the contributions of women in Canadian history include:
Submit a Proposal
The HSMBC considers proposals for designations from the public, as well as provinces and territories and the federal government. It was the Churchill Ladies Club of Churchill, Manitoba that noninated the Sayisi Dene woman Thanadelthur, who was designated a person of national historic significance in 2000.
If you want to prepare a proposal just check out the HSMBC website for information on the criteria and procedures - and note that persons have to be deceased for at least twenty-five years to be considered, except for Prime Ministers.
You can submit your suggestions for persons, events or other aspects of Canadian history for designation by sending your proposal to:
Executive Secretary
Historic Sites and Monuments Board of Canada
Gatineau, Quebec
K1A OM5
Email: hsmbc-clmhc@pc.gc.ca
Fax: (819) 953-4909