Latest News

Canadian-Born Actress Dies
May 1, 2013

Actress and singer Deanna Durbin died in a village near Paris in late April. Born in Winnipeg December 4, 1931, Durbin and her family moved to California when she was a child but the family maintained a connection with the city. Residents knew her as "Winnipeg's Sweetheart" and watched her progress in Hollywood closely.

Durbin was just 13 when she made her first feature film, Three Smart Girls. In 1939, at the age of just 17, she and child star Mickey Rooney received special Oscars "for their significant contribution in bringing to the screen the spirit and personification of youth and, as juvenile players, setting a high standard of ability and achievement". The popular actress famed for her soprano voice made about 20 films, and by 1946 was earning $323,477 a year. The only other woman in America who brough in more was actress Bette Davis.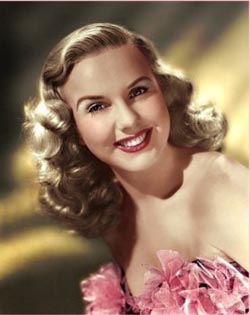 Durbin's unhappiness in show business led her to retire at the height of her career. She moved to France in 1949, where she raised her children along with her third husband, producer Charles David. She apparently enjoyed living a quiet life - and continued to sing daily.

Deanna Durbin in His Butler's Sister
Deanna Durbin singing Danny Boy
Deanna Durbin singing Ave Marie

And Kathleen Makes Six



It was a historic moment when Kathleen Wynne was sworn in as the premier of Ontario on February 11, 2013. The newly elected leader of the Ontario Liberal party became the first female premier of the province as well as the first openly gay one. With Wyne at the helm of the province of Ontario, there are now six female premiers in Canada

The other female premiers are Eva Aariak in Nunavut, Alison Redford in Alberta, Pauline Marois in Quebec, Christy Clarke in British Columbia, and Kathy Dunderdale in Newfoundland and Labrador. While many applaud the growing number of female premiers across the country, the inadequate representation of women in politics remains problematic. Women hold 25% or less of the seats in Parliament and Provincial legislatures in Canada.


Kathleen Wynne