Latest News

Aborginal Woman Top Mountie in Saskatchewan
August 22, 2013

Chief Supt. Brenda Butterworth-Carr will soon become the head of the RCMP in Saskatchewan. A member of the Tr'ondek Hwech'in First Nation from Dawson City, Yukon, she began working for the RCMP as a summer student. Butterworth-Carr served in both Yukon and Saskatchewan. She will be the first aboriginal woman in Canada to command an RCMP division when she begins her new post.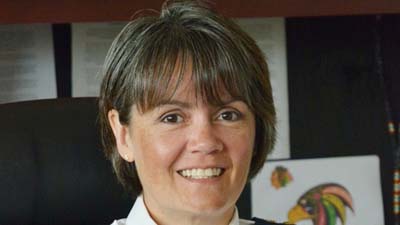 Chief Supt. Brenda Butterworth-Carr (RCMP handout)

Campaign to Get Women Back on Canadian Bank Notes
July 30, 2013

Canadian author and historian Merna Forster has launched a campaign to get women from Canadian history back on our bank notes. Last week she started the following petition on change.org.


The old note that featured Canadian women.

Stephen Poloz, Governor of the Bank of Canada: : Add women from Canadian history to Canadian bank notes

Here's why it's important:

When Mark Carney was governor of the Bank of Canada, the Bank decided to remove the images of the first notable Canadian women who finally made it onto our bank notes. While Queen Elizabeth II appears on $20 notes, the result is that there are again no women from Canadian history on our bills. It is unacceptable that female historical figures are not featured on the Polymer Series or another series - just male prime ministers and the Queen

In 2011, the Bank of Canada began issuing new $50 polymer bills which replaced images of The Famous 5 and Thérèse Casgrain with an icebreaker - rather than images of other female historical figures. Despite a public outcry over the new bills, the Bank of Canada made no changes to the series or firm commitments of more inclusiveness in future bills. Governor Carney issued a press release that indicated "Our bank notes belong to all Canadians, and the work we do at the Bank is for all Canadians."

Bank notes that belong to all Canadians should depict a wider range of Canadians, of both genders as well as various ethnic origins. Who and what is celebrated on our bank notes matters, as it reflects what we consider important in our culture and history and who we consider worthy of honouring for achievement. Women are not absent from the list of notable worthies in Canada, just notably absent or under-represented in many of the images that surround us and which contribute to our view of the world and our potential role in it.

In a situation very similar to the Canadian one, plans were recently announced by the Bank of England to remove reformer Elizabeth Fry from the face of £5 notes and replace her with Winston Churchill. A storm of criticism following the announcement led to public protests, a petition signed by over 35,000 people, and the threat of legal action funded by $21,500 in donations. This time around, Mark Carney, now the Governor of the Bank of England, reversed plans to dump the only woman on the country's bank notes. He announced on July 24, 2013 that author Jane Austen would be featured on new £10 notes. British journalists such as Danica Kirka praised the decision as "a sign that there is plenty of pride and little prejudice against women on the country's currency."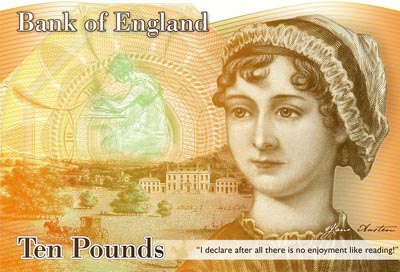 Image of the proposed note featuring Jane Austen.

Can the same be said in Canada, or are we to assume that the approach of the Bank of Canada indicates plenty of prejudice and little pride in Canadian women? An all-male line-up on bank notes is not acceptable in Canada, anymore than it was in the United Kingdom. Australia provides an excellent example of including nation builders of both genders on its bank notes. Most of the current notes feature a notable woman as well as a man, and a website that provides biographies of each of the people depicted: Australian banknotes.

We call on the Bank of Canada to add women from Canadian history to our bank notes as soon as possible, and announce that all future series will feature females as well as males.

You can sign the petition here: http://www.change.org/CanadaBankNotes