News


.Upcoming
.Latest News
.Archives
Latest News: Canadian Women Making History

Julie Payette Named as Next Governor General
July 13, 2017

Prime Minister Justin Trudeau announced that former astronaut Julie Payette will become the next governor general of Canada this fall. Payette will be the 29th governor general. A computer engineer who holds a commercial pilot licence, she was the second Canadian women to become an astronaut. The multi-talented Payette speaks six languages, holds many honourary degrees, and is an accomplished musician.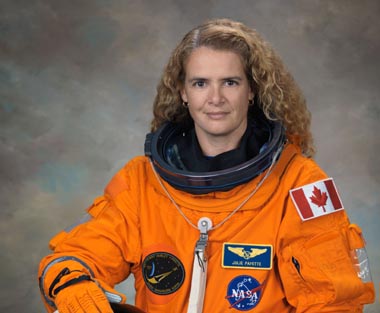 (Canadian Space Agency)

Agnes Macphail Appears on Canada 150 Bank Notes
June 1, 2017

The new Canada 150 commemorative bank note is now available at banks and other financial institutions across Canada. The face of the new note includes the image of Agnes Macphail, who became the first woman in Canadian history to be elected as a federal Member of Parliament. She was elected in 1921 and served until 1940. Be sure to check out the Bank of Canada feature on the Canada 150 note.






First Nations Woman Becomes Top Mountie in B.C.
March 1, 2017

Brenda Butterworth-Carr has been selected as commander of the RCMP in British Columbia, following a long and impressive career. Details in this article from CBC, and you can watch an interview with her on MAKERS.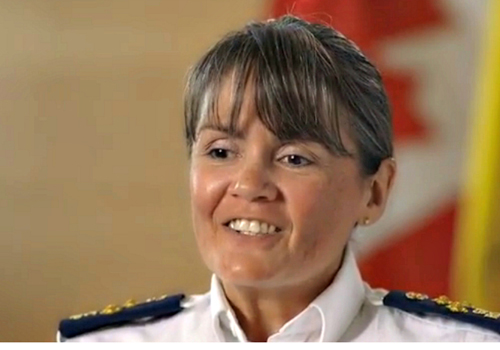 Viola Desmond Story on CBS News
February 28, 2017

Today the story of Viola Desmond was covered on CBS News. Was she "Canada's Rosa Parks"? Or was Rosa Parks "Ameria's Viola Desmond"? Watch the clip.

Viola Desmond Selected as New Face of $10 Bill
December 8, 2016

Viola Desmond was chosen as the first Canadian women to appear on the face of a regularly circulating Bank of Canada note Ė a new $10 bank note to be issued in 2018. Desmond, a successful Black business woman in Nova Scotia, became a civil-rights icon after challenging racial segregation. The selection of Desmond was announced by Bank of Canada Governor Stephen S. Poloz, Finance Minister Bill Morneau and Minister of Status of Women Patty Hajdu at a ceremony held at the Canadian Museum of History in Gatineau, Quebec.

The move to celebrate a notable Canadian woman on the currency followed a successful national campaign led by historian Merna Forster and supported by more than 73,000 people who signed her petition at change.org/CanadianHeroines.

More about Viola Desmond:
Watch the Heritage Minute re Viola Desmond
Read about Viola Desmond in 100 More Canadian Heroines: Famous and Forgotten Faces, by historian Merna Forster. Biography available at not charge on Google Books; pages 121-123.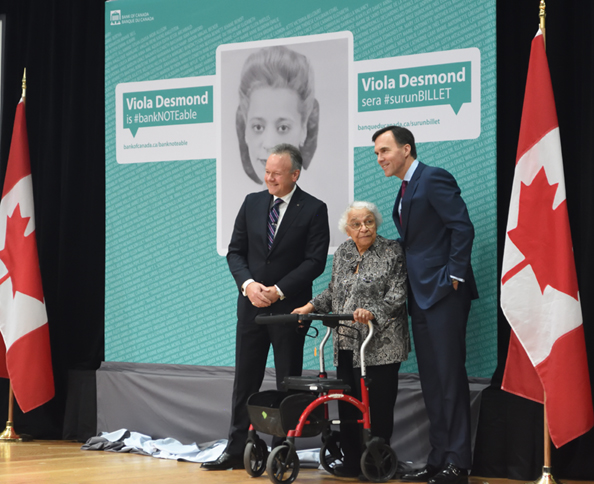 L to R: Bank of Canada Governor Stephen S. Poloz, Wanda Robson (sister of Viola Desmond), and Finance Minister Bill Morneau. (Photo by Merna Forster).

Ferry Named for Canadian Heroine
November 12, 2016

A ferry in Digby County Nova Scotia was named to honour a notable woman called Margaret Davis. She and her husband settled in the area after the American Revolution, and had a family of nine children. After she was widowed and the claim to her land was disputed, the fesity pioneer made a 300-kilometre trek to Halifax to fight for her property. She won.

In a ceremony attended by Premier Stephen McNeil and some of the descendants of Margaret Davis, the ferry was christened in her honour: Margaret's Justice.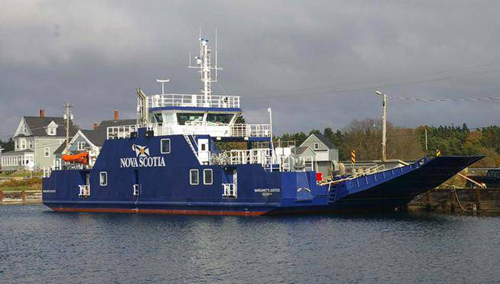 Another Award for Alanis Obomsawin
November 10, 2016

Alanis Obomsawin, acclaimed documentary film maker, has won another award: the 2016 Prix Albert-Tessier. Obomsawin, a member of the Abenaki Nation, has produced about fifty films during her long career. Her latest documentary is We Canít Make the Same Mistake Twice, which was shown at the Toronto International Film Festival in 2016.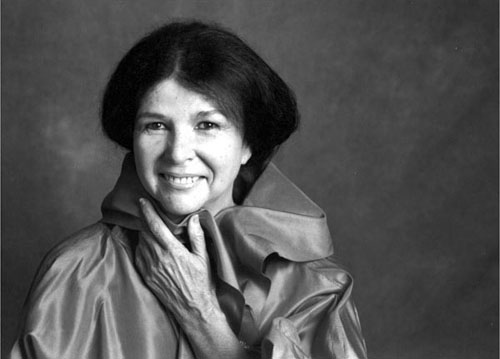 Alanis Obomsawin (National Film Board).

New Film on Maud Lewis
October 21, 2016

Sony Pictures Classics has picked up the rights to distribute a new film about Maud Lewis, a renowned Nova Scotia folk artist. The film Maudie tells the story of this interesting woman who was born in 1903 with deformed fingers and hunched shoulders. Despite living in poverty with her husband in a shack that lacked running water and electricity, she earned money by doing brightly-coloured oil paintings on anything she could find.

The stars of the film, an Irish-Canadian production, are Sally Hawkins and Ethan Hawke. The film has received great reviews on the film festival circuit, including a screening at the Toronto International Film Festival.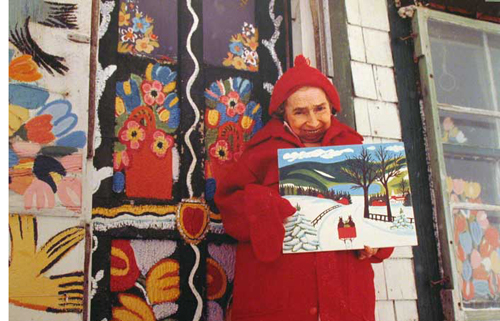 Maud Lewis with some of her paintings.

Historian Wins 2016 Pierre Berton Award
October 20, 2016

Author and historian Merna Forster, who led the successful national campaign calling for Canadian women on bank notes, has won the 2016 Pierre Berton Award for popularizing Canadian history. This Governor General's History Award for Popular Media will be presented to her by Governor General David Johnston at Rideau Hall on November 28, 2016.

Merna Forster has worked for many years to encourage greater awareness of women in Canadian history, through her public presentations and media commentary, writing, and creation of the heroines.ca website. She is the author of the popular books 100 Canadian Heroines and 100 More Canadians Heroines, and also helped raise funds for a statue of artist Emily Carr in Victoria.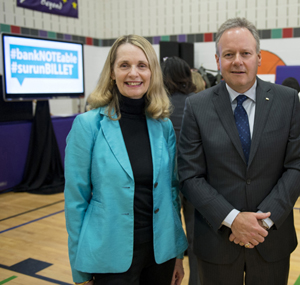 Merna Forster and Bank of Canada governor Stephen Poloz.
(Justin Tang photo)

Death of Canadian Physicist
July 22, 2016

Dr. Ursula Franklin, an ccomplished Canadian scientist, died in Toronto at the age of 94. A pioneer in her field, Franklin was a metallurgist, research physicist, feminist, peace activist, and educator. Her discovery of radioactive substances in the baby teeth of Canadian children led to the end of atmospheric nuclear testing during the Cold War.

More in the CBC article Ursula Franklin, renowed Canadian scientist, dead at 94.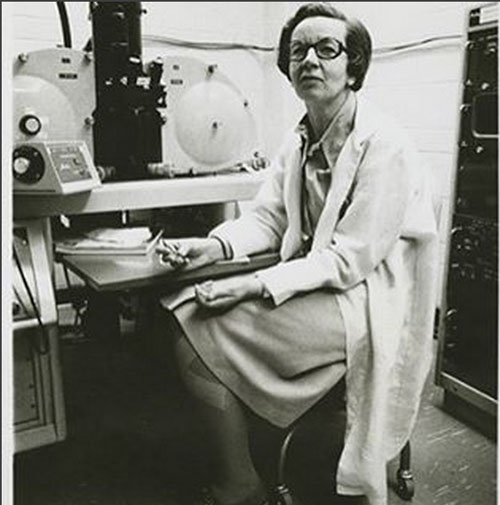 Dr. Ursula Franklin (University of Toronto).