News


.Upcoming
.Latest News
.Archives
Latest News: Canadian Women Making History

Unveiling of Viola Desmond Bank Note
March 8, 2018
Halifax

On International Women's Day 2018, a new $10 bill celebrating civil rights activist Viola Desmond was unveiled in Halifax. Wanda Robson, sister of Viola Desmond, uncovered the bank note with the help of Finance Minister Bill Morneau and Bank of Canada Governor Stephen Poloz. For the first time in Canadian history, a Canadian woman is being honoured on the face of a regularly circulating Bank of Canada note.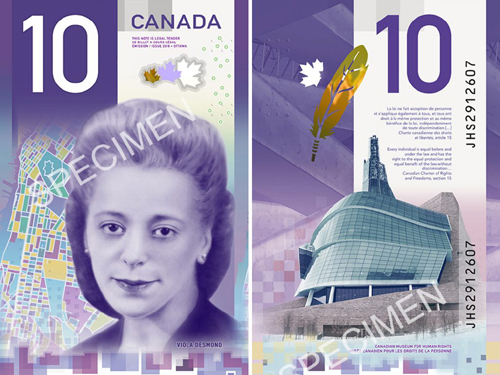 The unveiling of the note was the culmination of the work of activist Merna Forster and tens of thousands of Canadians who supported her campaign to celebrate women from Canadian history on bank notes. In July 2013, historian and author Merna Forster began a petition on change.org calling on the Bank of Canada and the Minister of Finance (who approves bank note designs) to celebrate female Canadian historical figures on Canadian bank notes.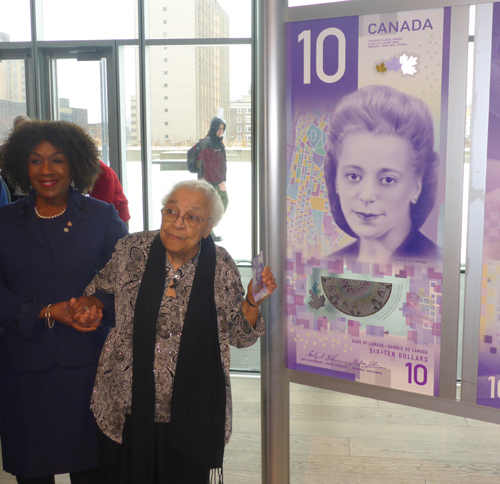 Wanda Robson with bank note celebrating her sister Viola Desmond (Photo by Merna Forster).

Background:

Canadian Currency

Women on bank notes Petition at change.org

Reasons for Signing Canadian Women on Bank Notes Petition

Meet the panel that will help choose a woman for the new Canadian banknote

Money Makeover: Canadian Women on Bank Notes, article by Merna Forster in Canadian Issues, published by the Association for Canadian Studies.

B.C. author who championed women for bank notes hopes Viola Desmond is the first of many

It's not about the money, it's about the misogyny: Porter. Merna Forster, a historian in Victoria, persuaded the Bank of Canada to add a woman to banknotes

Historian who campaigned for change thrilled women to appear on Canadian dollar bills

Who's the woman on Canada's new $10 bill? A Viola Desmond primer

National Anthem Becomes Gender Neutral
January 31, 2018

The Senate of Canada has passed a bill that will make O Canada, our national anthem, gender neutral. The words "in all thy sons command" will be replaced by "in all of us command." In 2016, the House of Commons passed a private member's bill calling for the change. The bill was introduced by Liberal MP Mauril Bélanger. For more than thirty years, various efforts were undertaken to change the national anthem and make it gender neutral. The bill will become law once the Governor General gives royal assent.

More: 'O' Canada' lyric change sparks debate, but the anthem was originally gender neutral