Canadian Currency
Where are Canadian women on the currency of our country? What heroines have been selected to show their faces on our coins and paper money, and remind us of their contributions to Canadian history? You will have to search a long time to find them.
Bank Notes
There are currently no real women from Canadian history honoured on any Canadian bank notes. Please sign our petition calling on the Bank of Canada to feature Canadian women on our notes.
On October 13, 2004, the Bank of Canada unveiled a new $50 bank note on the theme of national building. For the first time in Canadian history, Canadian women were featured on the note. The bill featured images of the Alberta women known as the Famous 5, as well as the renowned activist Thérèse Casgrain. The release of the bank note was celebrated in a ceremony held in Calgary, Alberta. Senator Joyce Fairbairn and David Dodge, Governor of the Bank of Canada, unveiled the $50 note. The Famous 5 Foundation played an important role in lobbying for the inclusion of the Famous 5 on a Canadian bank note.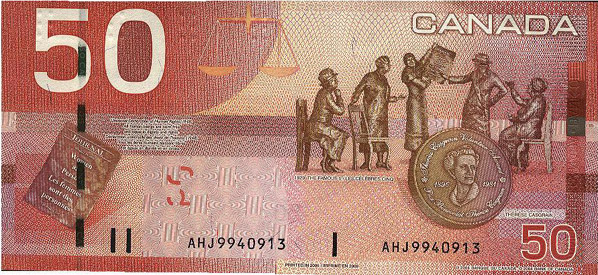 In 2011, the Bank of Canada began releasing a new series of polymer bills. The popular $50 bill featuring women from Canadian history was replaced by a new polymer depicting an icebreaker. None of the other new polymers feature female Canadian historical figures.
Canadian Women on Bank Notes Campaign 2013-?
Coins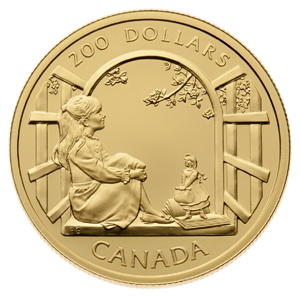 In 1994, a $200 gold coin was issued by the Royal Canadian Mint as a tribute to a fictional female: Anne of Green Gables. To celebrate the 100th anniversary of the Anne of Green Gables books in 2008, the Mint issued a 25-cent painted coin depicting the legendary Anne Shirley featured in the novels written by author Lucy Maud Montgomery.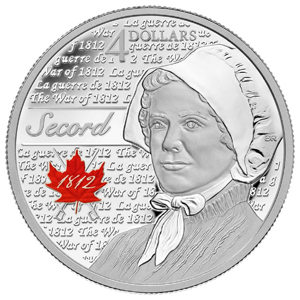 The Royal Canadian Mint unveiled two coins in 2013 to honour Laura Secord, a famous Canadian heroine of the War of 1812. Her image is featured on both a 25-cent coin, and a $4 silver one.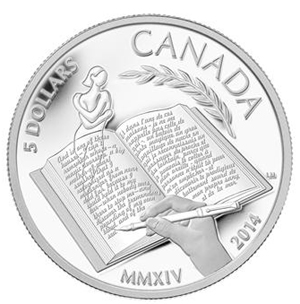 In 2013, Canadian author Alice Munro received the Nobel Prize in Literature. The Royal Canadian Mint honoured the celebrated writer by releasing a commemorative $5 silver coin on March 24, 2014 in Victoria, British Columbia. Alice Munro, who currently resides in the city, read from her book The View from Castle Rock after unveiling the new collector coin. It was designed by Canadian artist Laurie McGaw, and depicts a female figure emerging from a hand-written book. Many of Munro's short stories revolve around the lives of women and girls.
To celebrate FIFA Women's World Cup in Canada in 2015, the Royal Canadian Mint issued a series of special commemorative coins. The designs were unveiled in March 2015.



Your Proposals

If you have suggestions of notable women in Canadian history that you think should appear on a coin, just send your idea to:

The Royal Canadian Mint
320 Sussex Drive
Ottawa, Ontario
K1A OG8
Royal Canadian Mint Website
Email Royal Canadian Mint: Info@rcmint.ca

And if you have recommendations for notable women to appear on Canadian bank notes, you should send them to:

Bank of Canada
234 Wellington Street
Ottawa, Ontario
K1A 0G9
Bank of Canada Website
Email Bank of Canada: paffairs@bank-banque-canada.ca