Resources


.Books
.Shop
.Classroom
.Kid's World
.Films&Videos
.Related Links

Recipes
Check out some old recipes used by girls and women in Canadian history. Be cautious if you try to follow any of the recipes, since they may lack complete instructions about quantities, times and temperatures, etc.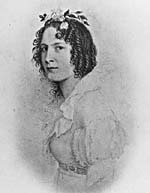 Catharine Parr Traill
(Library and Archives Canada/C-067337)

Recipes from Pioneer Catharine Parr Traill
(The Canadian Settler's Guide, 1855)

---
Indian Pound Cake

8 eggs, beaten
1 pint powdered sugar
1 pint of sifted Indian meal
1/2 pint of fine flour
1/2 lb. of butter

Stir the butter and sugar to a cream
Beat the eggs apart
Stir the meal and flour to the eggs and sugar and butter
Add nutmeg and lemon peel or essence of lemon, with a glass of wine and brandy
Butter a flat pan or little tart tins
Bake
This may be eaten the same day or soon as cold



---
Green Corn Fritters

One tea-cupful milk
Three eggs
One pint of green corn grated
A little salt
As much flour as will form a batter

Beat the eggs, the yolks, and whites separate.
To the yolks of the eggs add the corn, salt, milk, and flour enoughto form a batter.
Beat the whole very hard, then stir in the whites, and rop the batter a spoonful at a time into hot lard
Fry them on both sides, of a bright brown colour.



---
Excellent Gingerbread

Three pounds flour
One and half pound brown sugar
One pound butter
Six eggs
Two tablespoonfuls ginger

Bake on tin sheets rolled very thin.



---
Maple Sugar Sweeties

When sugaring off, take a little of the thickest syrup into a saucer, stir in a very little fine flour, and a small bit of butter, and flavor with essence of lemon, peppermint,or ginger, as you like best; when cold, cut into little bricks about an inch in length. This makes a cheap treat for the little ones. By melting down a piece of maple sugar, and adding a bit of butter, and flavouring, you can always give them sweeties, if you think proper to allow them indulgencies of this sort.



---
Roast Pigeons

Pluck and draw your birds
Mix bread crumbs with a little parsley chopped fine, some butter, pepper and salt
Put a little into the body of each bird
Lard and roast them: twenty minutes, with a good fire, is long enough.
The basting will serve for gravy,ľor add a little butter, and a very little boiling water after you have taken up the birds, and heat it in the pan your pigeons were roasted in.



---
Indian Fruit Pudding

Make your batter with hot milk, a little suet, shred fine, or butter rubbed with the meal, six eggs, and a pint of any green or ripe fruit, (as currants, gooseberries, cherries, huckleberries, or apples, chopped fine,) a little sugar, and a teaspoonful of salt; boil for two hours, or longer if your pudding be large.


Recipes from Amy G. Richards
(Cookery, 1895)

---
Note: This book was published in Montreal. Author Elizabeth Driver (Culinary Landmarks) indicated that Richards was probably a cooking teacher who taught while visiting Canada.

Apple Fritters

2 lb. apples
1 egg quantity of frying batter
some fine sugar.
Core and pare the apples, cut them across into rather thick slices so as to form rings, dip them one by one into the batter, and drop them into hot fat;fry for about three minutes, drain on paper, and sprinkle with sugar.

These fritters may be made richer by sprinkling the sliced apples with wine and sugar, also a little ginger and cinnamon, and allowing them to stand an hour or so before cooking.

Other fruit fritters can be made in the same way. Oranges should be divided into their natural divisions, and a little of the rind grated into the batter.

Bananas are best cut into four pieces, first length-ways, then across.

All fritters should be served as soon as possible after cooked.



---
Omelets

Though so few cooks can send a thoroughly good omelet to table, they are really very simple and easy to make.

In making the ordinary French omelet, the eggs should be but very little beaten, just enough to mix them and no more. If beaten too much, the omelet will be watery. If the omelet souffles, on the contrary, it is difficult to overbeat them, but of course they are beaten in a different way, that is, the whites and yolks separately.

In all cases, be very sure that the omelet pan is scrupulously clean. A good plan to ensure this, is to melt a very little fat in it, then rub it off with kitchen paper. The butter in which the omelet is cooked, should be heated slowly, or it will brown, and discolor the omelet.

And most important of all, the omelet must be served as soon as ready.

A great many other omelets may be made from the following recipes, by altering the flavouring.

French Omelet

2 eggs
1 large tablespoon of new milk or cream
a very little salt and pepper
if liked, a dust of nutmeg
Mix well together, but do not beat them. Melt not quite an ounce of butter in the omelet pan, pour in the mixture, and cook two or three minutes over the fire, hold it a few seconds before the fire, or under the gas in a gas-stove. Fold it up, put on a hot plate, and serve at once.

Omelet with Herbs

2 eggs
2 tablespoons milk
1/2 a very small shallot
1 teaspoon finely chopped mixed herbs
1 grate of nutmeg
pepper and salt.
Mix all together, melt 1 oz. butter in an omelet pan, pour in the mixture, stir with a wooden spoon until it begins to set, then drain into a half-moon shape. Turn on to a hot dish, and serve at once.