News


.Upcoming
.Latest News
.Archives
News Archives 2013
Upcoming in 2013
Black Canadian Heroines


Merna Forster will be the guest speaker at the October general meeting of the BC Black History Awareness Society in Victoria.

In celebration of Women's History Month in Canada, historian and writer Merna Forster will give a presentation on notable Black women in Canadian history. Merna is the creator of the website heroines.ca, A Guide to Women in Canadian History, as well as the author of 100 Canadian Heroines and 100 More Canadian Heroines. She will share stories and images of some of the Black women featured in her books, from the first female police officer in North America to the first women to found, publish and edit a newspaper in Canada.



Singer Portia White

Sunday, October 20th, 2013
2:00 p.m.

Location: James Bay New Horizons Centre
234 Menzies St.
Victoria, BC
Free Event
Everyone Welcome
For Information Call: (250) 386-3035


200th Anniversary of Famous Secord Trek


Poster for Laura Secord Walk, 2013

June 22, 2013 marks the 200th anniversary of Laura Secord's famous walk to warn the British of an upcoming attack by American forces. The Friends of Laura Secord have organized a Laura Secord Commemorative Walk to celebrate, and invite everyone who is interested to participate. You can register on the Friends of Laura Secord website to walk the entire 32 km route, walk a shorter section, or ride in a shuttle if you are mobility challenged. Participants in the commemortive walk will include Laureen Harper and journalist Valerie Pringle.

For more info about the Walk into History, check out the Friends of Laura Secord website.


Canadian War Brides Reunion in Victoria


Canadian war brides on the aircraft carrier Reaper, 1945.

Canadian War Brides and their families are invited to attend an annual reunion in Victoria, British Columbia. The gathering will be held at the Fairmont Empress Hotel from April 12 to 14, 2013. The reunion is being organized by The Canadian War Brides and Families Association. If you would like to obtain further information or register for the event, just contact war bride Joan Reichardt:
Email - jreichardt@netidea.com
Phone - 250-352-7013

For more info about the history of Canadian War Brides, check out our feature on heroines.ca.


Celebrating Black History Month in Canada 2013

February is Black History Month in Canada, and many special events have been organized across the country. Be sure to let us know if you would like to have your events promoted on heroines.ca!

To discover some of the many notable Black women in Canadian history, just check out This Month in Canadian Herstory: February and the book 100 Canadian Heroines: Famous and Forgotten Faces. Among the women featured in this book is Mary Ann Shadd (1823-1893). As noted in the book, "She was the first woman to found, publish, and edit a newspaper in Canada. Not to mention being a civil rights activist, feminist, teacher, and abolitionist."



Celebrating Black History Month in Victoria


Black History Month Events in Victoria

Victoria has a very active BC Black History Awareness Society, and is offering a wide variety of great events to celebrate Black History Month this February. For more information just check out the society's website: www.bcblackhistory.ca.

Thanks to Ron Nicholson for sharing this information.


Latest News in 2013

Emily Carr Exhibit in Vancouver
December 21, 2013

The Vancouver Art Gallery has launched a new exhibition of paintings by the famous Canadian artist Emily Carr. The exhibit, entitled Emily Carr: Deep Forest, includes more that 40 forest paintings done by Carr. The works will be on display until March 9, 2014. More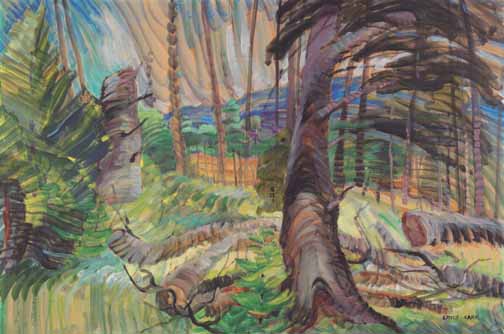 Aborginal Woman Top Mountie in Saskatchewan
August 22, 2013

Chief Supt. Brenda Butterworth-Carr will soon become the head of the RCMP in Saskatchewan. A member of the Tr'ondek Hwech'in First Nation from Dawson City, Yukon, she began working for the RCMP as a summer student. Butterworth-Carr served in both Yukon and Saskatchewan. She will be the first aboriginal woman in Canada to command an RCMP division when she begins her new post.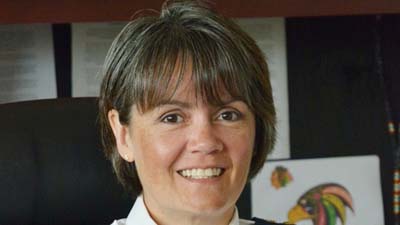 Chief Supt. Brenda Butterworth-Carr (RCMP handout)

Campaign to Get Women Back on Canadian Bank Notes
July 30, 2013

Canadian author and historian Merna Forster has launched a campaign to get women from Canadian history back on our bank notes. Last week she started the following petition on change.org.


The old note that featured Canadian women.

Stephen Poloz, Governor of the Bank of Canada: : Add women from Canadian history to Canadian bank notes

Here's why it's important:

When Mark Carney was governor of the Bank of Canada, the Bank decided to remove the images of the first notable Canadian women who finally made it onto our bank notes. While Queen Elizabeth II appears on $20 notes, the result is that there are again no women from Canadian history on our bills. It is unacceptable that female historical figures are not featured on the Polymer Series or another series - just male prime ministers and the Queen

In 2011, the Bank of Canada began issuing new $50 polymer bills which replaced images of The Famous 5 and Thérèse Casgrain with an icebreaker - rather than images of other female historical figures. Despite a public outcry over the new bills, the Bank of Canada made no changes to the series or firm commitments of more inclusiveness in future bills. Governor Carney issued a press release that indicated "Our bank notes belong to all Canadians, and the work we do at the Bank is for all Canadians."

Bank notes that belong to all Canadians should depict a wider range of Canadians, of both genders as well as various ethnic origins. Who and what is celebrated on our bank notes matters, as it reflects what we consider important in our culture and history and who we consider worthy of honouring for achievement. Women are not absent from the list of notable worthies in Canada, just notably absent or under-represented in many of the images that surround us and which contribute to our view of the world and our potential role in it.

In a situation very similar to the Canadian one, plans were recently announced by the Bank of England to remove reformer Elizabeth Fry from the face of £5 notes and replace her with Winston Churchill. A storm of criticism following the announcement led to public protests, a petition signed by over 35,000 people, and the threat of legal action funded by $21,500 in donations. This time around, Mark Carney, now the Governor of the Bank of England, reversed plans to dump the only woman on the country's bank notes. He announced on July 24, 2013 that author Jane Austen would be featured on new £10 notes. British journalists such as Danica Kirka praised the decision as "a sign that there is plenty of pride and little prejudice against women on the country's currency."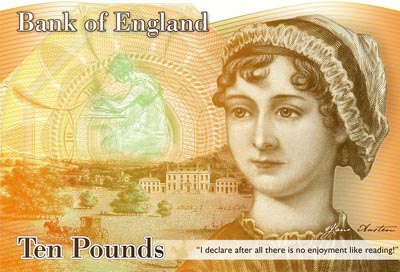 Image of the proposed note featuring Jane Austen.

Can the same be said in Canada, or are we to assume that the approach of the Bank of Canada indicates plenty of prejudice and little pride in Canadian women? An all-male line-up on bank notes is not acceptable in Canada, anymore than it was in the United Kingdom. Australia provides an excellent example of including nation builders of both genders on its bank notes. Most of the current notes feature a notable woman as well as a man, and a website that provides biographies of each of the people depicted: Australian banknotes.

We call on the Bank of Canada to add women from Canadian history to our bank notes as soon as possible, and announce that all future series will feature females as well as males.

You can sign the petition here: http://www.change.org/CanadaBankNotes


Sailor Completes Solo Journey
July 8, 2013

British sailor Jeanne Socrates made history when she arrived in Victoria, B.C. in her 38-foot sloop. At the age of seventy, she became the oldest woman to have sailed around the world by herself, without assistance and without stops.

Read more about this impressive feat in the Times Colonist article Oldest woman to sail around world solo, non-stop ends journey in Victoria.

Carney Critized for Exclusion of Women in U.K.
July 7, 2013

It was deja vu for Mark Carney when he began his new job as Governor of the Bank of England. The former Bank of Canada governor again faced critism for a bank's plans to remove images of women from bank notes. When Carney faced a similar situation in Canada he made vague promises of a change in policy. But, perhaps eager to please in his new position, Carney now promises concrete action within the month. And the new Governor of the Bank of England suggests that women will indeed be included on U.K. bank notes.

Why were women dropped from Canadian bank notes and not the British ones? Could the threat of legal action in the U.K., and a petition signed by more than 30,000 protesters, have influenced this strikingly different approach? Journalist Dean Beeby compares the situations in the two countries.

Carney to include women on U.K. bank notes after women purged from Canada's


Historian Merna Forster, author and creator of the heroines.ca website, is quoted in the article. She believes that rather than featuring one token woman on Canadian bank notes, it would be preferable to take the Australian approach. In that country each of four bank notes currently features both an important female figure in Australian history, and a male. A fourth bank note includes the image of Her Majesty Queen Elizabeth II and Parliament House in Canberra.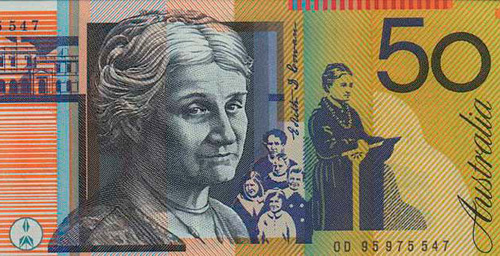 Parliamentarian Edith Cowan is featured on the Australian fifty dollar note.

First Woman to Lead Mining Group
June 19, 2013

The Iron Ore Co. of Canada has named Zoe Yujnovich chair of the Mining Association of Canada, the first time that a woman has held the position. Yujnovich is currently president and CEO of the Iron Ore Co. of Canada, a position she assumed after serving as president of Rio Tinto Brazil. A citizen of both Australia and the UK, she has lived in eight countries. Yujnovich holds an Executive MBA from the University of Utah as well as a BEng Materials Engineering from the University of Western Australia. She is the mother of three children, and enjoys competing in swimming as well as rowing.

Zoe Yujnovich (CIM Magazine)

Canadian-Born Actress Dies
May 1, 2013

Actress and singer Deanna Durbin died in a village near Paris in late April. Born in Winnipeg December 4, 1931, Durbin and her family moved to California when she was a child but the family maintained a connection with the city. Residents knew her as "Winnipeg's Sweetheart" and watched her progress in Hollywood closely.

Durbin was just 13 when she made her first feature film, Three Smart Girls. In 1939, at the age of just 17, she and child star Mickey Rooney received special Oscars "for their significant contribution in bringing to the screen the spirit and personification of youth and, as juvenile players, setting a high standard of ability and achievement". The popular actress famed for her soprano voice made about 20 films, and by 1946 was earning $323,477 a year. The only other woman in America who brough in more was actress Bette Davis.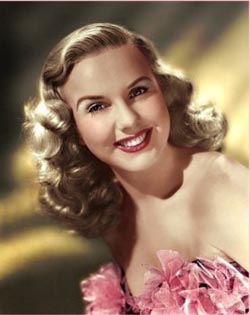 Durbin's unhappiness in show business led her to retire at the height of her career. She moved to France in 1949, where she raised her children along with her third husband, producer Charles David. She apparently enjoyed living a quiet life - and continued to sing daily.

Deanna Durbin in His Butler's Sister
Deanna Durbin singing Danny Boy
Deanna Durbin singing Ave Marie

And Kathleen Makes Six



It was a historic moment when Kathleen Wynne was sworn in as the premier of Ontario on February 11, 2013. The newly elected leader of the Ontario Liberal party became the first female premier of the province as well as the first openly gay one. With Wyne at the helm of the province of Ontario, there are now six female premiers in Canada

The other female premiers are Eva Aariak in Nunavut, Alison Redford in Alberta, Pauline Marois in Quebec, Christy Clarke in British Columbia, and Kathy Dunderdale in Newfoundland and Labrador. While many applaud the growing number of female premiers across the country, the inadequate representation of women in politics remains problematic. Women hold 25% or less of the seats in Parliament and Provincial legislatures in Canada.


Kathleen Wynne