History


.Time Travel
.This Month in
Herstory
Time Travel in Canadian Women's History
---
Laura Secord and the War of 1812

How did a pioneer woman called Laura Secord become the most famous heroine in Canadian history?

It was the summer of 1813. British and American troops were fighting for control of the Niagara Peninsula when Laura Secord happened to hear about a secret American plan to surprise the British at Beaver Dams, which was commanded by Lieutenant James Fitzgibbon. On a hot and humid June day in 1813, the young woman trudged 32 km through swamps and forests to warn Fitzgibbon. Thanks to this gutsy lady, the British win an important battle in the War of 1812.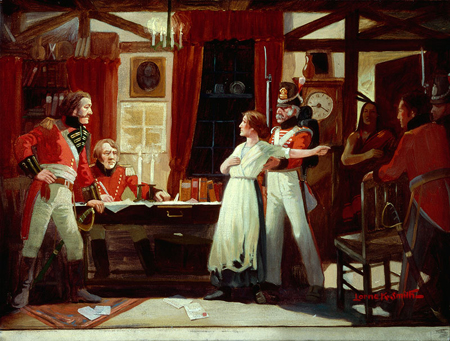 Laura Secord meets Lieutenant Fitzgibbon, June 1813
(Painting by Lorne K. Smith, 1920/National Archives of Canada/C-011053)
More about Laura Secord: