History


.Time Travel
.This Month in
Herstory
Time Travel in Canadian Women's History
---
Travelling With the Voyageurs

Imagine the days when voyageurs still paddled across the Canadian wilderness. And you are on a voyage with them, passing a waterfall.

Frances Anne Beechey was an artist who was born in England in 1838. She spent many years in Canada with her husband Edward Hopkins, a Chief Factor for the Hudson's Bay Company. Frances accompanied her husband on trips through the wilds of Canada with the voyageurs. She recorded her experiences on canvas, painting some of the most widely recognized paintings depicting Canadian history.

Painting the Past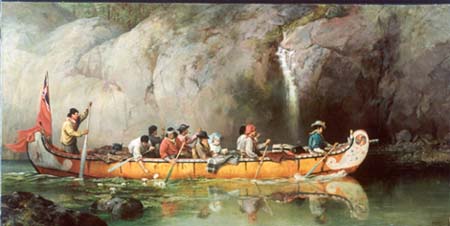 Canoe Manned by Voyageurs Passing a Waterfall
(National Archives of Canada/C-002771)

Notice anything curious about this painting of voyageurs? It's an oil painting done by Frances Anne Hopkins in 1869. Can you pick out a figure you might not expect to be see among the paddlers? The lady in blue is Frances Anne, who literally painted herself into the picture!
More about Frances Anne Hopkins:
Read about this Canadian heroine in the book 100 Canadian Heroines: Famous and Forgotten Faces by Merna Forster (Toronto: Dundurn Press, 2004).