History


.Time Travel
.This Month in
Herstory
Time Travel in Canadian Women's History
---
Thérèse Casgrain and the Voice of Women in Quebec, 1961
Thérèse Casgrain (1896-1981) was born in Montreal, and became a leader in the battle to get Quebec women the right to vote in provincial elections. She was also a notable reformer who sought to achieve world peace and an end to nuclear weapons. In 1961 she founded the Quebec Branch of an organization called the Voice of Women, and was elected president of this branch. Senator Marianna Jodoin became the honorary president. As outlined in the following text about the growth of the VOM, the group wanted to achieve "Construction, not destruction."

Thérèse Casgrain, 1961






The Voice of Women (La voix des femmes) was formed by Canadian women anxious about the threat of nucelar war. The organization soon had 6000 members across the country and worked to encourage disarmament. Among the earliest supporters of VOM was Mrs. Lester Pearson, though she resigned in 1962 following newspaper allegations that it was a communist organization and political in nature. In addition to its educational campaigns, conferences and meetings, VOW also lobbied federal and provincial governments.

In March 1961 Thérèse Casgrain participated in a trip made by a delegation of VOW members from Montreal to Ottawa in March 1961. The members presented a brief to Prime Minister John Diefenbaker. Thérèse Casgrain explained that though there was nothing really new in the document, the 400 women involved wanted to ensure that the federal government realized Canadians were well-informed about the issues related to peace and disarmament.

The Prime Minister and five cabinet ministers met the women in the Railway Committee Room on Parliament Hill. The delegates also visited their respective members of parliament before returning to Montreal. The visit was covered widely by newspapers, radio and television.

An account of the creation of the Voice of Women in Quebec, 1960
Source: Library and Archives Canada, MG 32 C25 vol. 10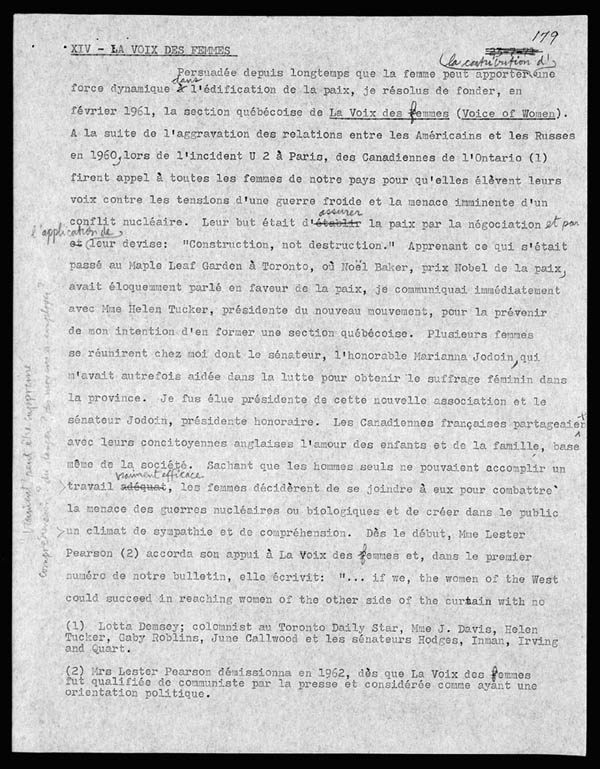 Excerpt from the autobiography of Thérèse Casgrain (Library and Archives Canada, MG 32 C25 vol. 10)

More about Thérèse Casgrain:
Read about this Canadian heroine in the book 100 Canadian Heroines: Famous and Forgotten Faces by Merna Forster (Toronto: Dundurn Press, 2004).