History


.Time Travel
.This Month in
Herstory
Time Travel in Canadian Women's History
---
The 1928 Amsterdam Olympics
For the first time in history women were permitted to compete in track and field events in the Olympic Games. Seven Canadian women participated in the 1928 Amsterdam Olympics: one swimmer and 6 sprinters who were dubbed the The Matchless Six. They were Bobbie Rosenfeld, Jean Thompson, Ethel Smith, Mrytle Cook, Ethel Catherwood, and Florence Bell.
Ethel Catherwood won a gold medal in the high jump. The female relay team from Canada also won a gold medal, thanks to amazing performances by Fanny Rosenfeld, Ethel Smith, Myrtle Cook, Florence Bell and Ethel Catherwood. In the 100 metre final Myrtle Cook, holder of the world-record, was unfortunately disqualified after two false starts. But Ronsenfeld won a silver medal and Smith a bronze.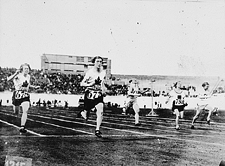 Fanny Rosenfeld was born in Russia in 1905 but grew up in Canada, where she excelled in most sports. She kept busy playing basketball, hockey and softball. In Amsterdam she won a silver medal in the 100 m and she was the lead runner in the relay. In 1950 Fanny was named Canada's female athlete of the first half century. Following her athletic career she became a well-known sportswriter.



Ethel Smith (left) and Fanny Rosenfeld
(second from left) at the 1928 Olympics.
National Archives of Canada/PA-151007


More about Fanny Rosenfeld: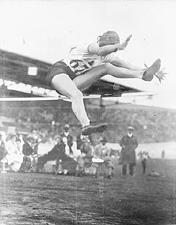 Ethel Catherwood (1908-1987) was a champion track and field athlete raised in Saskatoon, where she attracted attention as a high jumper in 1926 on equalling a Canadian record. At the 1928 Olympics she won a gold medal by clearing 1.59 m in the running high jump. Catherwood moved to California and never competed again. She took a business course, studied piano and married.


Ethel Catherwood competing in
Amsterdam, NAC/PA-151004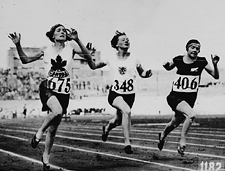 Myrtle Cook, at left, winning a preliminary
heat at the 1928 Olympics, NAC/PA-150994