Press Release for "Who is YOUR Canadian Heroine?"

WHO IS YOUR CANADIAN HEROINE?
Tell us and your essay could be published!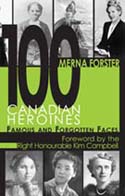 To celebrate the release of the new book 100 Canadian Heroines by Merna Forster we are asking Canadian students to make a case for their favourite Canadian heroine in Canadian history. The subject of the winning essay will be the 101st Canadian heroine.
The FIRST PRIZE WINNER will have his or her winning essay published in Merna Forster's next colleciton of Canadian heroines to be published by Dundurn Press; $300 worth of books published by Dundurn Press; $100 cash prize; and the winning essay will be posted on www.dundurn.com and www.heroines.ca.
The rules are simple! Your heroine MUST:
1. not be alive
2. be Canadian-born or have accomplished something significant in Canada
3. not be one of the heroines in 100 Canadian Heroines by Merna Forster

You MUST be:
1. 12-16 years of age
2. living in Canada
The biography of your Canadian heroine should be 500-700 words (2-3 pages) in length, typed or printed neatly, with all of the sources you have consulted (check out 100 Canadian Heroines to see how).
We must receive your entry by APRIL 30, 2005. Please send it to: Contest, Dundurn Press, 8 Market Street, Suite 200, Toronto, ON, M5E 1M6.
Winner will be announced in JUNE 2005.
For full contest details, rules and regulations, and to find resources such as posters, please visit www.dundurn.com/contests.html.
For further information please contact: Heather Sanderson, Dundurn Press,
Tel: 416-214-5544, ext.25; Fax: 416-214-5556; E-mail: hsanderson@dundurn.com