Contests in 2004
December 2004:
Danute Bulka of Brossard, Quebec was the winner of our December 2004 contest. Danuta received a free copy of 100 Canadian Heroines: Famous and Forgotten Faces.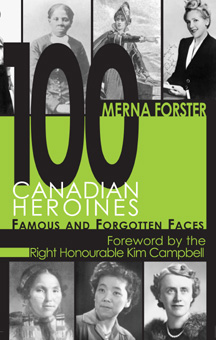 November 2004:

Margaret Curran of New Minas, Nova Scotia was the winner of our November 2004 contest. Margaret won a free copy of 100 Canadian Heroines: Famous and Forgotten Faces by author Merna Forster. The Right Honourable Kim Campbell, Canada's first and only female prime minister, wrote the foreword for this publication.
100 Canadian Heroines profiles some remarkable women, from the adventurous Gudridur the Viking to murdered Mi'kmaq activist Anna Mae Aquash. You'll meet heroines in science, sport, preaching and teaching, politics, war and peace, arts and entertainment, etc. The book is full of amazing facts and fascinating trivia about intriguing figures like mountaineer Phyllis Munday, activist Hide Shimizu, Arctic guide Tookoolito, unionist Lia Roback, sexy movie mogul Mary Pickford and singer Portia White.
Great quotes and photos are featured in this inspiring collection.

ISBN: 1-5502-514-7
$24.99 (paper), 288 pages
Available in bookstores everywhere
amazon.ca
amazon.com
chapters.indigo.ca.
October 2004:

Raj Dhir of Saskatoon, Saskatchewan was the winner of our October 2004 contest. Raj won a free copy of 100 Canadian Heroines: Famous and Forgotten Faces.
September 2004: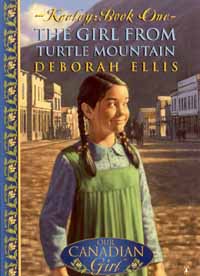 Amy Tucker of Vancouver, British Columbia won a copy of a great book for young readers from the series Our Canadian Girl: The Girl From Turtle Mountain. Written by author Deborah Ellis, this 102-page book is juvenille fiction for ages 8-12. Published in 2004 by Penguin Canada, the book tells the story of a courageous young girl called Keeley who settles in Frank, Alberta in 1901.
Inspired by actual places and some historical events, the book includes black and white illustrations. Kids will have fun exploring the website about the series Our Canadian Girl.
August 2004: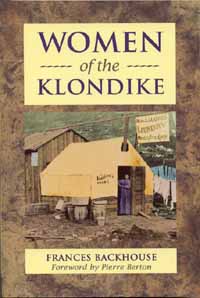 During the month of August 2004 M. Diane Rogers of Burnaby, British Columbia won a copy of the book Women of the Klondike. Written by Canadian author Frances Backhouse, this fascinating 212-page book features an introduction by historian Pierre Berton. Published in 1995 by Whitecap Books, the book celebrates a diversity of women of the Klondike - from singers and dancers to goldseekers and cooks, nurses and teachers.
The book, illustrated with many historical black and white images, tells the stories of women like Emilie Tremblay, Ethel Barry, Belinda Mulrooney, Klondike Kate, the Sisters of St. Ann and ethnologist Alice Rollins Crane.
July 2004:

During the month of July 2004 Karen Sanchuk of Erleau, Ontario won a copy of the book Extraordinary Ordinary Women: Manitoba Women and Their Times. The 95-page book was developed as a millenium project by the Manitoba Council of the Canadian Federation of University Women. This interesting volume was published in the year 2000 "as a remembrance and celebration of our mothers, grandmothers and aunts so that our children and grandchildren can honour the contributions of these women and others like them. They did not themselves as heroes..."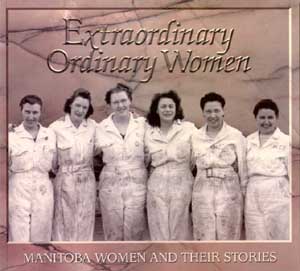 The book includes a few famous women, but most have not been recognized for their achievements. EXtraordinary Ordinary Women includes biographies of Manitoba women involved in the fur trade, farming, the arts, commerce, education, healing, wartime, the labour force, community building and activism. This publication also provides an image of most of the women profiled.
June 2004:

During the month of June 2004 Mary Kirby of Ottawa, Ontario won a copy of the book The Home Cook Book, a reproduction of a historic Canadian cookbook. The original version was published back in 1877 - "compiled from recipes contributed by ladies of Toronto and other cities and towns: published for the benefit of The Hospital for Sick Children". The book also includes words of wisdom about housekeeping, table talk and dinner etiquette. A fun read!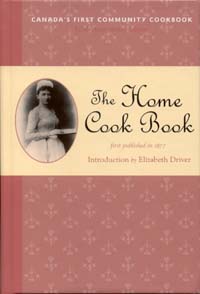 Canadian scholar Elizabeth Driver, a noted expert on Canadian cuisine, wrote the introduction to this interesting volume of recipes. Ms. Driver has spent more than a decade identifying every cookbook published in Canada from 1825 to 1949. She's also tried to track down copies of each of the books, and culinary enthusiasts will no doubt be interested in obtaining a copy of The Home Cook Book: Canada's First Community Cookbook, 125th Anniversary Edition. The 1877 version was the first fund-raising cookbook in Canada and launched a new technique for raising money for community projects. With more than 100,000 copies sold, The Home Cook Book was the best-selling cookbook of the nineteenth century in Canada.